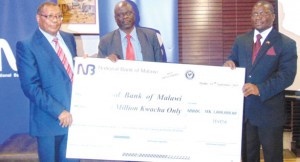 Teveta gives NBM good trainer award
Technical Entre preneurial and Vocational Education and Training Authority (Teveta) on Monday presented an award and a K3 million cheque to National Bank of Malawi (NBM) for being one of the outstanding employers in training and human resources development in the country.
NBM was early this year named a Golden Award winner in the Best Employers Awards organised by the Employers Consultative Association in Malawi (Ecama). Teveta was a collobarating partner with Ecama in the training and human resource category.
Illovo emerged the best in the category after winning the Platinum Award and was earlier presented with a cheque of K4 million from Teveta.
Teveta's director of training programmes Wilson Makulumiza- Nkhoma said an assessment conducted for Ecama by business advisory firm KPMG indentified NBM as one of the best employers when it comes to training and human resource development.
"And as Teveta we can testify to that because in almost every training programmes we organise, there is always somebody from National Bank of Malawi," said Makulumiza-Nkhoma.
On his part, NBM chief executive officer, Georg e Partridge, thanked Ecama and Teveta for recognising the bank's efforts in the development of its staff.
"At National Bank, training is our only priority. We don't have any other priority. That's why we are the only bank in Malawi with a fully fledged and custom built Growth and Development Centre [NBM Money Men Training Centre]," said Partridge.
(Visited 6 times, 6 visits today)
Latest posts by Vanessa Banda
(see all)