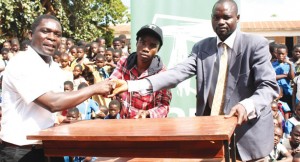 Thyolo school gets Ufulu@50 benefits
Mmethiwa Primary School in the area of Traditional Authority Kapichi in Thyolo has become one of the beneficiaries of TNM's Ufulu@50 Promotion after receiving 69 desks through a TNM customer, White Harry.
Harry, a form three student at Blantyre Secondary School, was one of the 50 TNM customers that won K2 million each in the Ufulu@50 promotion which TNM conducted in 2014 as part of Malawi's 50 years of independence celebrations.
Each of the winners was required to choose a social responsibility project of their choice worth K2 million, translating to K100 million which TNM will spend on community initiatives chosen by the winners.
Harry chose to buy desks for Mmethiwa Primary School in his home village to give pupils at the school a new lease of life and inspire them to excel.
"On behalf of people from this community, let me commend TNM for this initiative which has not only benefited individuals but even the communities," he said.
The school's deputy head teacher, Petro Chikopa, said the school, which has an enrolment of over 1,220 pupils, only had 60 desks and that the donation from Harry had more than doubled the figure.
He asked other well wishers to come forward and help the school with more desks that so all of its pupils should stop learning while seated on the floor.
TNM's Head of Blantyre Region David Nyirenda described Ufulu@50 as a life-changing promotion that has demonstrated TNM's commitment towards Corporate Social Responsibility.
(Visited 1 times, 1 visits today)
Latest posts by Vanessa Banda
(see all)