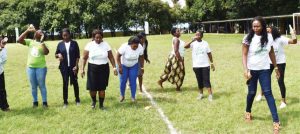 TNM hosts Family Day for employees
Realizing that the success of any organisation relies on its key asset— the people—integrated mobile network and ICT service provider TNM over the weekend hosted a Family Day at Money Men Club to promote engagement with and amongst employees. .
The Family Day is an annual event that TNM hosts for its employees and their families and is observed in all its four operating regions across the country.
Speaking during the event in Blantyre, TNM Senior Manager for Consumer services Madalitso Jonazi said the Family Day concept is designed to help create a balance between work and family by creating a large common platform on which the two sides engage with each other.
"TNM realises the role that families play in our employees' lives and today is about bringing together the families as such families of TNM employees come together at one designated venue in all the major regions of the country and participate in various activities."
"We like to sit together and have fun with our families who also indirectly play an important role in our day to day operations", Jonazi said.
Jonazi said this years' TNM Family Day theme was aimed at harnessing a culture of healthy living among family members.
"This year's Family Day theme is aimed at providing a broad-spectrum of knowledge impar tat ion on employees' health and wellness," he said.
Jonazi said this year's Family Day started with Nature walk from Milare Police Road Block to Kamuzu View and a week-long health talk week from Monday April 24 to 28. He encouraged employees and their families to continue working hard in promoting the TNM brand.
To spice up the event, TNM organised a fun train ride for all children below the age of 20 and activities for adults which included football, netball, volley ball, swimming, chess, bao and tennis.
(Visited 24 times, 24 visits today)
Latest posts by Vanessa Banda
(see all)