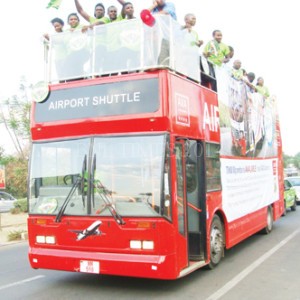 TNM Mpamba and AXA Strike Deal – You Can Now Buy Tickets Via Mpamba
Mobile service provider, TNM on Wednesday entered into an agreement with AXA Coach Service which seeks to provide convenience to travellers across the country.
Through the partnership TNM and AXA customers have an opportunity to buy AXA Executive and Deluxe Coach tickets using TNM Mobile Money – Mpamba.
TNM Head of Mobile Money Webster Mbekeani said apart from buying tickets the partnership also provides an opportunity for TNM customers to access all TNM products and services at designated AXA outlets across the country.
"TNM customers will be able to buy TNM airtime, register for TNM Mpamba, transact on TNM Mpamba (cash-in, cash-out, redeem tokens) at all AXA outlets across the country making it more convenient for travellers to access our services as they wait to board the AXA buses", he said.
AXA General Manager Cuthbert Chinguo said, as pioneers of modern solutions they are delighted to be associated with an innovation that transforms our society into a cash-less society, just like the rest of the world.
"This is an exciting moment for the AXA Brand to partner with TNM in making it easier for our mutual customers to electronically purchase their travel tickets using the Mpamba platform but also to afford them the convenience of accessing other TNM products and services at our Coach Terminals," said Chinguo.
Apart from receiving and sending money, TNM Mpamba also provides an opportunity for registered customers to pay utility bills, GO TV subscriptions among others.
Latest posts by Vanessa Banda
(see all)