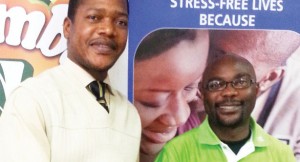 TNM partners Masm in bill payment system
Medical Aid Society of Malawi (Masm) members can now pay their monthly subscription fee through TNM Mpamba following the commencement of a bill payment partnership deal between the two companies on Wednesday.
TNM Head of Marketing Webster Mbekeani said the deal with Masm was a breakthrough to the medical industry in reaching out to more players like hospital pharmacies, and laboratories to start using Mpamba as a payment platform.
Mbekeani said TNM has been facing challenges to penetrate into the medical industry as many players have been skeptical on using mobile money payment facilities due to lack of understanding.
"The medical industry was lagging behind and Masm has come to spearhead into that industry. With the connection of Masm which is a giant in this industry, all players should have the reason to use this payment platform," said Mbekeani.
The facility has now been added to TNM's bill payment menu and the two companies are working towards expanding the facility to allow people register with Masm through Mpamba.
Masm chief commercial officer Andrew Ngomwa said the partnership will bring convenience to its members in the way they make monthly subscription payment.
"Our core objective is to provide convenience to our members and the general public in the provision of access to better health care services and one of the areas of convenience is how one makes payments," said Ngomwa.
He added that Malawi's health insurance is still in the infancy level and for it to make strides there was need to simplify the way members and the general public register and make payment while in the comfort of their home or while travelling through mobile money facilities like Mpamba.
(Visited 24 times, 5 visits today)
Latest posts by Vanessa Banda
(see all)