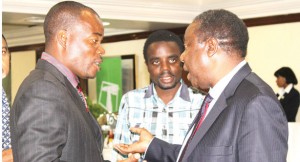 TNM profit for 2014 up 102%
Mobile telephone operator TNM has announced an after tax profit jump of 102 percent for 2014 during which the company registered a profit of K5.2 billion from K2.5 billion in 2013.
Shareholders for the Malawi Stock Exchange-listed company have since approved a final dividend of K1 billion, representing a K10 per share, payable on July 3 this year.
The figure brings the total dividend for the year to K2.41 billion.
However, some shareholders for the company complained about continued delays to receive their dividends upon such an approval.
Addressing some of the shareholders at the 20th annual general meeting held in Blantyre on Friday, TNM board Chairperson Matthews Chikaonda assured them that this year's dividends will be paid on time.
However, another bone of contention at the AGM was a proposal by the company to increase board of directors' remuneration.
It was proposed at the AGM that the annual retainer fee for directors should be increase to K5 million from K2.7 million for the chairperson, K4.4 million from K2.2 million for chairpersons of board committees and to K4 million from K1.8 million for other directors.
It was also proposed that sitting allowances for the directors should also be increase.
This, however, did not auger well with some minority shareholders present who protested that the hike was on the higher side considering the state of the business in the year under review.
But after casting a vote – a process which took an hour, the motion was endorsed by the majority shareholders.
Some members also resisted the re-appointment of Deloitte as the company's auditors, but it was later resolved that the firm be maintained.
Speaking on the sidelines of the AGM, Chikaonda described the rather tense AGM as democratic.
"It was a successful meeting and [what happened] is healthy for the growth of the company. There was active shareholder participation," said Chikaonda.
(Visited 42 times, 42 visits today)
Latest posts by Vanessa Banda
(see all)