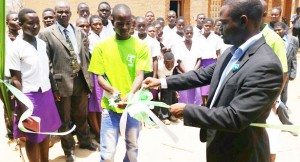 TNM winner builds school block in Mzuzu
One of the winners in TNM's Ufulu @ 50 promotion has completed construction of a two-classroomed school block at Thimalala Community Day Secondary School in Mzimba.
Timothy Nyirenda was one of the 50 lucky TNM customers who won K2 million for community projects of their choice in the Ufulu @ 50 promotion which TNM held in 2014 as its contribution to Malawi's 50th independence anniversary celebrations.
The completion and handover of the block has enabled the school to open forms three and four, a development that parents and teachers have hailed as many students who could not access senior secondary school education will now have the opportunity.
The Form three has already opened during this academic year following which the students will proceed to form four next year.
"I thought of spending my prize on the classroom block so that the school becomes a full secondary school," said Nyirenda.
He said because of the absence of a full secondary school at the CDSS, many students dropped out at Form two level as they could not manage to travel to other distant schools for forms three and four in the area.
Nyirenda said he too would also enroll for form three at the school.
Thimalala CDSS head teacher, Crescent Qungwne, said with the introduction of forms three and four, many pupils would now be able to complete secondary education.
TNM's regional distribution manager for the north, Yamikani Bakuwa, said the handover of the school block demonstrated the company's commitment in fulfilling its promises to customers in Mzimba and the rest of the region.
"This is a life changing promotion as prizes are going to worthwhile causes that are changing communities," said Bakuwa.
(Visited 24 times, 24 visits today)
Latest posts by Vanessa Banda
(see all)