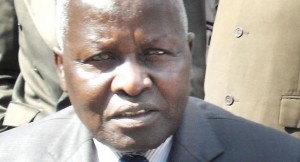 Tobacco Association against leaf farming
The Tobacco Association of Malawi (Tama) has called on the government to stop tobacco buying companies from producing own tobacco, arguing that this is creating conflict of interest among the merchants.
Tama president Reuben Maigwa led the protest in his address during the Tama Congress in Lilongwe on Thursday which was graced by Vice President Saulos Chilima.
Maigwa cited high rejection rate, especially on flu cured tobacco whose sales are currently on suspension, saying this was because tobacco buying companies produce high volumes of flu cured tobacco on their own.
"This is a conflict of interest. Who will be buying our tobacco?" wondered Maigwa.
He said the tobacco companies are licensed to buy the leaf and that they need to stick to their line of business while leaving production to growers.
Maigwa also commented devaluation of the Malawi kwacha, saying the country's monetary policy does not favour tobacco production since the exchange rate appreciates when tobacco is being sold and depreciates when growers are buying inputs.
"We end up getting low earnings when the kwacha appreciates but buy inputs at high prices when the kwacha depreciates," said Maigwa.
On his part, Chilima assured growers that government will ensure that their interests are protected through the new Tobacco Act under review.
He said government is striving to bring in more players in the industry to increase competition, citing the licensing of new buyers and the coming in of an Egyptian company to add value to tobacco.
Chilima said government will also take centre stage to bring sanity in the industry by ensuring that only credible tobacco associations are registered.
"We will also continue engaging tobacco buyers to offer better prices to growers," said Chilima.
The Tobacco Control Commission (TCC) has in the past admitted the conflict of interest created when buyers also venture into tobacco farming and the review of the Tobacco Act is expected to introduce restrictions in that area.
Flue cured tobacco is currently experiencing problems due to overproduction which has led to poor prices and high rejection rates, especially for tobacco being sold by non-contracted growers.
Apparently, tobacco buying companies are heavily involved in the production of flue cured tobacco and this started about 13 years ago following a downscale of Zimbabwean producers who had dominated the international market.
The buyers had asked government to start producing flu cured which was in short supply but increased volumes from local farmers has created oversupply over the past two years.
(Visited 13 times, 13 visits today)
Latest posts by Vanessa Banda
(see all)