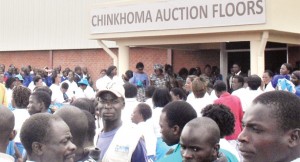 Tobacco auction floors close September
The country's auction floors are expected to complete the trading of this year's tobacco by mid next month, the Tobacco Control Commission (TCC) has said.
Auction of burley tobacco has already concluded at Limbe Auction Floors where limited sales are still going on and are expected to close by the end of the month of August.
The market, which opened in April this year, had by Friday last week earned the country about U$296 million in foreign exchange.
TCC chief executive officer, Bruce Munthali, said the remaining auction floors — namely Lilongwe, Mzuzu and Chinkhoma, will close burley trading on August 28 while the flue cured tobacco marketing is expected to conclude mid- September.
Munthali said the market has been pro-longed to allow the sale of flue cured tobacco which has faced a number of hiccups during the market season.
"As a regulator, we would like to see that all flue tobacco has been sold off before the market closes," said Munthali.
Munthali has described this year's tobacco marketing season as generally good, except for the problems faced with the flue cured sales.
Statistics from AHL Group indicate that during the week ending August 14, dark fired tobacco was doing better – with low rejection rate and better prices compared to the same period last year.
The AHL weekly report attributed the good trading of dark fired tobacco to low supply of the leaf against an increased demand.
The report also said the highest price for auction burley continued to shrink from US$2.30 per kg to US$2.10 per kg during the week under review and that the gains reported last week have been eroded in the week under review.
The rejection rate during the week averaged above 50 percent at all the auction floors, according to AHL Group.
(Visited 7 times, 7 visits today)
Latest posts by Vanessa Banda
(see all)