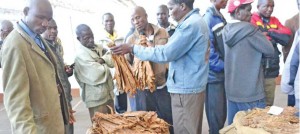 Tobacco Control Commission consults government on tobacco market
After 23 weeks of sales, the closure of this yea r 's tobacco market is yet to be known and regulator, Tobacco Control Commission (TCC), has penned the government on the way forward.
This year's marketing season, which was opened in March, is expected to be one of the longest as tobacco is being offloaded at a slow pace. The market has been riddled with low prices and high rejection rate and there are prospects of the market continuing until October.
TCC Chief Executive Officer, Albert Changaya, said he cannot disclose when the market will come to an end this year.
"We have not yet finalised the closing date as we are waiting for direction from the Ministry of Agriculture. We first of all had to do a survey as to how much tobacco is still with the farmers, at warehouses and in transit to the floors. TCC has done all that, but I cannot disclose to you how much tobacco is out there. We have to present the findings to the Ministry first for the way forward," Changaya said.
He dismissed reports that the market will close by the end of this month.
"It is only TCC that decides when the market closes. We know there are some people out there who are giving out false information on the closing dates. Once, we have confirmed the closing dates, we will make announcements," he said.
Changaya further said once the dates are set, TCC will give the farmers enough time to deliver their tobacco at the floors.
"Farmers will be given ample to take their tobacco to the floors, but for those farmers who will not be able to deliver their tobacco at their floors before the closure, they will be allowed to transfer their tobacco. However, the farmers will bear transportation costs," he said.
(Visited 1 times, 1 visits today)
Latest posts by Vanessa Banda
(see all)