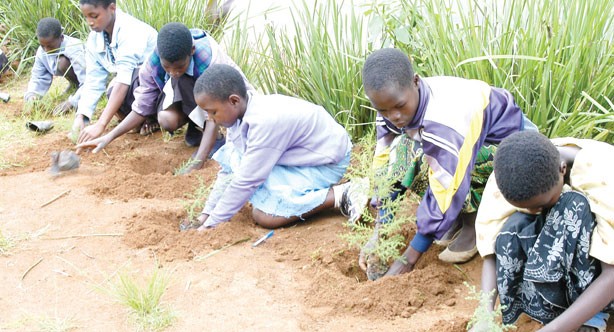 Tobacco Control Commission leads players in planting trees
Tobacco Control Commission leads players in planting trees
Tobacco industry players led by Tobacco Control Commission (TCC) launched the tobacco industry-wide tree planting ceremony in Dowa on Friday.
The ceremony was graced by Minister of Natural Resources, Energy and Mining Atupele Muluzi.
Speaking during the event, Muluzi said he is keen to champion tree planting and urged the tobacco industry players to ensure that growers plant trees as part of the Integrated Production System for tobacco.
TCC Chief Executive Officer, Bruce Munthali, said it is mandatory for the industry to be involved in the tree planting exercise.
He said tobacco production is dependent on natural resources mainly trees hence the industry should take a leading role.
"The tobacco industry uses about one million tonnes of wood material in tobacco production annually, that's a significant figure and there is need to replace the wood hence our commitment as an industry to come to one place and demonstrate the need," said Munthali.
About five thousand seedlings were planted and the initiative intends to double that amount at the end, covering two bare hills of Goma and Ngombengo.
Some players that we r e represented at the occasion include Auction Holdings Limited, Tobacco Association of Malawi, Agricultural Research and Extention Trust (ARET) and Japanese Tobacco International (JTI), among other stakeholders.
Latest posts by Vanessa Banda
(see all)