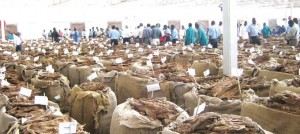 Tobacco earnings hit $240 million
Malawi has so far realised a total of $240 million from tobacco sales since the start of the tobacco market this year, figures released by Auction Holdings Limited indicate.
The figures show that a total of 159.5 million kilogrammes of the green gold have been sold at an average price of $1.51 per kilogramme.
Malawi's third round of crop estimates indicated that the country is this year expected to produce a total of 165 million kilogrammes of tobacco.
The development means that over 90 percent of this year's tobacco has gone through the market.
Investment Management firm, Alliance Capital, in its third quarter economic review indicated that the kwacha is expected to depreciate considerably after tobacco sales.
The kwacha is currently trading at around K770 to the dollar in high street banks and at around K790 to the green buck on the parallel market.
Tobacco Control Commission (TCC) Deputy Chief Executive Officer, David Luka, last week described this year's tobacco season as a distressful one.
He said the season has faced many challenges due to the excess tobacco that came about due to over production.
"The Commission jointly with the Ministry of Agriculture is working hard to make sure that the tobacco which has not been sold should be sold.
"It is not an easy thing to arrive at the solution but, as the Commission and the Ministry, we will try our best to make sure that all the tobacco is sold," Luka said.
He further said the closure of the market will depend on how fast the market can dispose the tobacco currently in farmers' hands.
(Visited 32 times, 32 visits today)
Latest posts by Vanessa Banda
(see all)