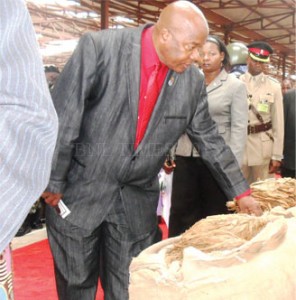 Tobacco earnings hit US$2.5m – BNL Times
After three days of tobacco trading, the green gold has managed to earn the country US$2.5 million in foreign exchange.
The tobacco marketing season opened last week on April 8, 2015.
Tobacco Control Commission (TCC) Chief Executive Officer, Bruce Munthali, said so far the general pricing has been higher compared to last year.
He said currently the national average price is at US$1.32 per kilogramme as compared to last year's prize of US$1.11 per kilogramme.
Munthali also said by the same time last year, the earnings were at US$1.3 million.
"This is almost double what was earned last year. Practically, this shows that the market is moving in the right direction and it is a good note so far," he said.
On the rejection rate which has been a major problem on the market over the years, Munthali said at the moment the rate is fairly low at around seven percent while on the contract market it is zero compared to 20 percent last year.
"This is quite impressive and
if this trend continues, we may have a shorter marketing season. Of course we still have to look at other types of tobacco like flue and dark fired which are yet to start selling on the market. But as for burley, so far so good," said Munthali.
Currently, three tobacco markets are in operational thus, Limbe, Lilongwe and Chinkhoma.
A report on the trading from TCC shows that volumes sold were down 75 percent over the same period in 2014 while overall average prices increased by 15 percent compared to same period in 2014
The main contributing factor to the drop in sales volume is the number of days the tobacco was sold in week one with 2014 crop being sold over five days compared to three days for 2015, according to the report.
Auction average prices, reads the report; have gone up by 20 percent against 10 percent increase under contract.
Latest posts by Vanessa Banda
(see all)