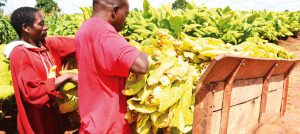 Tobacco farmers urged to adopt climate smart agriculture
By Audrey Kapalamula:
Tobacco growers in the country have been urged to consider adopting farming practices that would mitigate the impact of climate change.
Phindu Tobacco Growers Association President, Abel Kumwenda, made the call on Tuesday during the association's annual general meeting in Lilongwe.
Kumwenda said bad tobacco production practices are contributing to climate change.
He said the situation is affecting productivity.
"Climate change is affecting quality of our tobacco, which becomes less competitive on the market. We need to be alert and well prepared.

"Farmers should adopt various methods to conserve water and participate in afforestation programmes," Kumwenda said.
In 2017, the association produced 14.7 million kilogrammes (kgs) while in 2018 members of the group produced 32.4 million Kg.
Kumwenda said, despite registering bumper yields, the farmers are grappling with effects of climate change, citing floods, among others.
"In 2017, we experienced drought, which affected our production while, in 2018, most of our farmers had their tobacco washed away by floods. We really need to work on mitigation factors," Kumwenda said.
The association has over 7650 members.
Latest posts by Vanessa Banda
(see all)