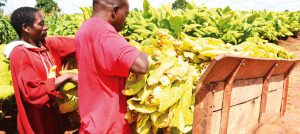 Tobacco farmers warned against overproduction
By Eric Msikiti:
Tobacco growers have been advised to produce the leaf within allocated quotas this season to avoid overproduction.
Limbe Auction Floors Assistant Manager, Forge Maseko, said this during a growers' meeting AHL Group organised in Zomba District on Friday.
This comes amid fears among stakeholders that demand for Malawi tobacco could plummet in the 2018/19 season following a prolonged market and bloated volumes that characterised the sale of the green gold this year.
Addressing a section of farmers, Maseko said there is need for the growers to be producing in line with projected demand if the leaf is to fetch better prices.
"Farmers should grow the crop according to demand. Although we are saying more tobacco was sold this season compared to last season, the crop fetched low prices because supply was higher than demand," Maseko said.
Figures provided show that the country sold about 202 million Kilogrammes (Kg) of all types of tobacco this year, realising $337 million dollars.
Early this year the Tobacco Control Commission announced that the country produced 147.8 million Kg against a demand of 171 million Kg.
Media reports suggest that buying companies have shoved 20 million kg to next season's purchases, meaning that they would be buying less of the tobacco that will be produced.
The anticipated reduced demand, if it materialises, could hurt the country's foreign reserves as tobacco remains Malawi's single top foreign exchange earner.
One of the tobacco farmers, Patrick Majawa, lamented the dwindling competition in recent past.
Majawa said earnings continue lowering each passing year.
"I think crop diversification is the way to go; only that there is little information reaching us about profitable markets for other crops," Majawa said.
Latest posts by Vanessa Banda
(see all)