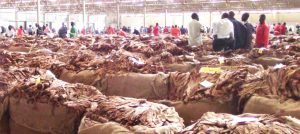 Tobacco final figures at $212 million
The final consolidated figures for this year's tobacco earnings have been pegged at $212 million, according to statistics released by regulatory body Tobacco Control Commission (TCC).
The earnings surpass last year's by 23 percent.
Last year, the green gold fetched $276 million from a total volume of 195 million kilogrammes, whilst this year 107 million kilogrammes went through the auction.
This represents a 45 percent increase in terms of volumes sold.
The average price for this year was $1.99 which was better as compared to last year's $1.41 per kilogramme.
From the $212 million, flue cured tobacco contributed $61 million, 19 percent up against last year's $45 million.
Burley tobacco fetched $144 million from 81 million kilogrammes as compared to last year's earnings of $226 million from a total volume of 175 million kilogrammes.
TCC Acting Chief Executive Officer, David Luka, said the earnings are better this year as compared to last year.
"When you look at the figures, especially the volumes, you will see that, last year, the volumes were higher but the prices were a bit low. This year, we had low volumes and better prices, which we feel is the way to go," he said.
Luka said they will strive to make sure that growers abide by the quotas allocated to them to avoid issues of over-production.
He said, over the years, tobacco prices have been affected due to over-production.
"This season, we will also closely monitor the growers in terms of the quotas allocated to them. What we would like to see is the grower benefiting from his/her sweat," Luka said.
(Visited 33 times, 33 visits today)
Latest posts by Vanessa Banda
(see all)