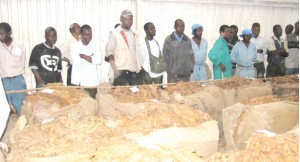 Tobacco growers demand stable kwacha
At the time many would expect the country's tobacco growers to be smiling from ear to ear as the local currency continues to lose ground against the dollar, the picture on the ground is completely different.
A visit to the Limbe Auction Floors last week revealed that the growers are not excited with the falling kwacha as they fear the continued plunge would mean them spending even more to buy inputs in the next growing season.
Gift Lakapati, a grower from Nankumba in Mangochi told The Daily Times that the falling kwacha came in late when most farmers had already sold their crop.
"Had it been that the kwacha was falling at the start of the growing season, it would have been great news. But see now, it is coming when over 75 percent of the tobacco is sold," said Lakapati.
He observed that the swinging kwacha is doing more harm than good to tobacco growers, saying they are selling the crop at a low price and buying inputs at a high price in kwacha terms.
Another grower, James Asani, concurred with Lakapati that it was high time government dropped the floating exchange rate regime, arguing that it is hurting tobacco farmers.
"I don't know who benefits from the floating exchange rate regime but for us tobacco growers, we are struggling.
"I think the floating exchange rate only benefits banks and other players in the forex business," said Asani.
As at Friday, the kwacha was hovering around K525 to the green buck, down from around K430 to the dollar in early July.
Last week, an economic analyst called on RBM to intervene on the kwacha slip to restore confidence on the money market where speculative trading is causing depreciation of the local currency.
RBM spokesperson, Mbane Ngwira, said in an interview however that there is currently no need for RBM to intervene since there are still enough foreign exchange supplies on the market.
According to the Reserve Bank of Malawi (RBM), central bank's foreign exchange reserves were recorded at US$714.1 million (3.4 months of imports) at end June 2015, from US$693.4 (3.3 months of imports) in May 2015.
For the country as a whole, foreign exchange reserves amounted to US$997.5 million (4.8 months of imports) in June 2015, from US$982.0 million (4.7 months of imports) in May 2015.
Despite, the country recording higher foreign exchange reserves than last year, the Kwacha has continued to depreciate sharply.
(Visited 3 times, 3 visits today)
Latest posts by Vanessa Banda
(see all)