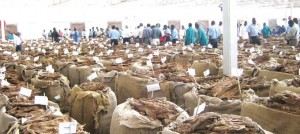 Tobacco market closed | The Times Group
Tobacco Control Commission (TCC) has closed the tobacco market after 37 weeks of trading.
Many quarters have described this year's tobacco season as the worst having faced different challenges ranging from high rejection rates to low prices.
This is evidenced by a reduction in revenue that the country has made out of this year's market compared to last year.
The market has closed with the green gold fetching $1.42 per kilogramme as compared to $1.75 during the same period last year.
But although the market stretched to 37 weeks, the country has only managed to raise $276 million.
In 2015, Malawi earned $337 million from tobacco after 27 weeks of sales.
TCC Chief Executive Director Albert Changaya has expressed concern over the irregularities that the market has faced this year.
Originally, the market was scheduled to close on December 2 but TCC extended the market in order to accommodate farmers who had a lot of tobacco yet to be sold.
"We are not happy with this year's season because it was characterised by low prices. Buyers never really offered competitive prices and that coupled with high rejection rates necessitated the delay to close the market
"Normally, the market closes after 24 or 25 weeks of trading," he said.
According to Changaya, overproduction was also one of the challenges the market faced.
"There has been an element of overproduction. We might be ending with 175 million for barley alone against the trade requirement 132 billion meaning about 43 million kilogrammes are in excess," he explained.
Auction Holdings Limited (AHL) Corporate Affairs Manager , Mark Ndipita, said in terms of volumes, this year, the country has sold a lot of tobacco compared to last year. However, the revenue generated has declined to $276 million compared to last year.
Commenting on the closure, Tama spokesperson, Sam Kalimba, said their organisation is happy with the development.
"As an association for tobacco growers, we are happy that every bale has been sold. The extension allowed us to sell the remaining tobacco. Some bales have been sent for re-handling. We hope that those bales will also be sold off," he said.
(Visited 13 times, 13 visits today)
Latest posts by Vanessa Banda
(see all)