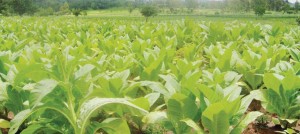 Tobacco market set to open next month
This year's tobacco marketing season is expected to open early next month, according to the regulator body, Tobacco Control Commission (TCC).
Last month, the body released its first assessment for the crop, which indicated that there will be a drop in production by 36 percent.
TCC Acting Chief Executive Officer, David Luka, said the commission is also finalising results of the second assessment.
"Our team has been in the field for two weeks and we expect the results of the final assessment out by this week.
"These results will determine when the market will be opened, but we should open the season by early next month," Luka said.
He said some growers have already started harvesting, hence the market cannot wait any longer.
In terms of registration, Luka said 1,500 growers were registered for this season against 140 million kilogrammes of licensed tobacco.
He, however, said the kilogrammes are lower than the current trade requirement.
Luka also warned the growers to avoid using non tobacco related materials in their bales.
"The use of non tobacco related materials affects the market not at local level but internationally. As TCC, we, therefore, ask the growers to grade their tobacco accordingly so that it fetches good prices, " Luka said.
On the other hand, growers are set for the season and optimistic that the prices will be good this year.
Wilson Masanjala, from Blantyre, said he expects the prices to be not less than $2 per kilogramme.
"The crop is good this year and of high quality. Therefore, I expect the prices to start from $2 going upwards," Masanjala said.
He further said contract farming has proved to be the best for growers as they are able to receive necessary advice from experts.
(Visited 29 times, 29 visits today)
Latest posts by Vanessa Banda
(see all)