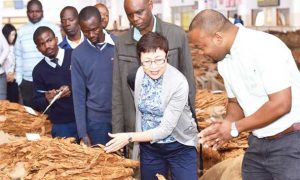 Tobacco marketing ends Friday | The Times Group
This year's tobacco marketing season ends today, with final sales being conducted at the Mzuzu Auction Floors.
Tobacco Control Commission (TCC), the regulatory body, has confirmed the development, saying the market was supposed to close last week Friday.
The first market to close was Limbe followed by Chinkhoma in Kasungu and Kanengo in Lilongwe.
TCC Acting Chief Executive Officer, David Luka, said the market failed to close because there were still some unsold bales of tobacco.
He, however, said figures for this year will be consolidated from Monday next week.
"Starting Monday, we will be consolidating the figures, but all in all this year we have done better than previous years and we as TCC are satisfied with the season," said Luka.
He further said as TCC, they will strive to make sure there is always a smooth operation of the markets.
Luka noted that all stakeholders played a brilliant role to have uninterrupted market with low rejection rates.
"All players in the sector have done well and we appreciate their roles. This is what we are advocating for," he said.
In terms of earnings, Luka said currently, the green gold has earned $210 million against last year's $186 million, representing 13 percent increase.
The volumes sold as at week 17, according to Luka were 105 million kilogrammes against last year 's 118 million kilograms. This represents an increase of 11 percent.
"The average price is $2 per kilogramme which is 27 percent more than what was offered last year. This signifies that the prices were better this year," he said.
(Visited 41 times, 41 visits today)
Latest posts by Vanessa Banda
(see all)