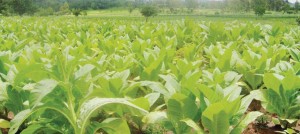 Tobacco output falls 35% | The Times Group
The second round of crop estimates show that tobacco production has dropped by 35 percent from 195 million kilogrammes grown last year to 152 million kilogrammes this year.
This creates a 17 percent gap from the 125 million kilogrammes of tobacco demand in line with international trade requirements.
Regulator, Tobacco Control Commission (TCC) says the drop in output is a good indicator of good prices farmers are likely to realise from the market.
Overproduction has been a major concern in tobacco marketing contributing to high rejection rates and low prices offered for the leaf.
However, other commentators feel the fall emanates from frustration among growers, some of whom have since quit growing the crop.
Last year, the market was marred by a wide range of irregularities including high rejection and low prices the leaf fetched which made the season longest in recent history.
In a telephone interview, TCC Acting Chief Executive Officer, David Luka, said there was still hope for a competitive marketing season this year.
"With less production, compared to demand, we expect stiff competition and better prices," he said.
In an interview last week, Tobacco Association of Malawi (Tama) President, Reuben Maigwa, said the body also expects prices for the leaf to be higher this year as compared to the last growing season.
"Comparing the amount of tobacco farmers have grown this year to the previous year, the demand will be higher and that is an indication that prices will go up," he said
This year's tobacco marketing season is expected to open on April 11 in Lilongwe to be followed by Chinkhoma which is likely to open on April 12.
Limbe and Mzuzu Auction Floors are expected to open on April 18 and 24, respectively.
According to Luka, the dates are yet to be approved.
"To come up with the dates, we need to engage all stakeholders, including buyers, the growers and the auction.
"We may factor in the element of how ready the crop is and of course the government to give the final nod," he said.
(Visited 59 times, 59 visits today)
Latest posts by Vanessa Banda
(see all)