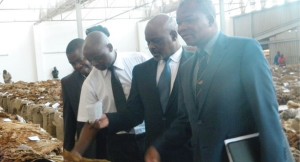 Tobacco prices improve slightly
Tobacco prices at Limbe Auction Floors have slightly gone up since the opening of the tobacco marketing season, but farmers says they are still not satisfied with the price offerings.
When Minister of Agriculture, Allan Chiyembekeza toured the floors on Wednesday, buyers were offering US$1.05 per kilogramme for poor quality tobacco, while high grade tobacco was fetching US$2.40 per kilogramme. At the opening of the market, the prices were between US$1.05 and US$1.40 per kilogramme.
"There is a mixed feeling about the market. Some buyers are offering better prices while others are not. This is due to the fact that some of the growers are under contract farming while others are not.
"Those who get farm inputs from the buyers are getting better prices as the quality of tobacco is also good," said Chiyembekeza.
He further said farmers have now started bringing middle and upper leaf tobacco, hence the price is expected to go up.
Micheal Matiki, a farmer from Phalombe, said the prices on offer are not impressive as compared to the past few years.
He said bottom leaf tobacco is still fetching US$0.85 per kilogram as has been the case over the past years.
"The prices have always been the same, there is no improvement. If we were selling our tobacco at US$0.85 in 2010, we do expect the price to have gone up by now. If you compare the same with fertilizer prices, you will see the difference because in 2010, fertilizer prices were at around K9,000 but today the same fertilizer is being bought at K17,000 or K19,000," said Matiki.
Latest posts by Vanessa Banda
(see all)