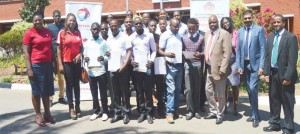 Total Malawi champions work site safety training
Total Malawi has graduated 19 contractors after they successfully completed Scaffolding training as part of Total Work Site Safety Training programme. The contractors were groomed how to handle high-risk eventualities. The programme ran for two weeks.
Total Malawi Managing Director, Seggie Kistasamy, said the programme is designed to reduce accidents and to improve the quality and standards of workmanship.
"This milestone initiative is aimed at empowering and upskilling our contractors. Transforming the safety culture of our contractors and suppliers equally enables the skills development of Malawians," he said.
Technical Entrepreneurial and Vocational Education Training Authority (Teveta) Executive Director, Ndione Chauluka applauded Total for the initiative and challenged the contractors to use the acquired skills rightfully for a greater change.
He further appealed to other companies and organisations to emulate Total Malawi's gesture in enhancing quality skills and reducing work site accidents.
Stakeholders that have partnered with Total Malawi in the programme include Teveta, National Construction Industry Council of Malawi and Salima Engineering.
(Visited 15 times, 15 visits today)
Latest posts by Vanessa Banda
(see all)