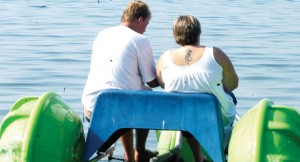 Tourism GDP input to rise
Malawi government expects the contribution of the tourism sector to Malawi's Gross Domestic Product (GDP) to increase from eight to 13 percent by the year 2018.
The estimate is contained in the 2014 annual Economic Report. The report indicates that government has put in place strategies to achieve the targeted growth.
Among the strategies is a plan to advertise Malawi's tourist attractions through both local and international media platforms.
"There are plans to increase representation in key source markets such as China, Germany, United Kingdom and South Africa. Promotion of Malawi as a leading destination for conferences and events will also continue as a result of the modern conference and events facilities available in Lilongwe," says the report.
However, the report also highlighted some of the challenges the sector is facing. The challenges include lack of financial resources to support the proper management of tourism establishments such as protected areas and lack of support infrastructure such as access roads.
"Inadequate and irregular funding is negatively affecting the sector in that tourism development projects are taking longer time to complete than initially planned. This also fails to support destination marketing of Malawi," reads the report.
(Visited 1 times, 1 visits today)
Latest posts by Vanessa Banda
(see all)