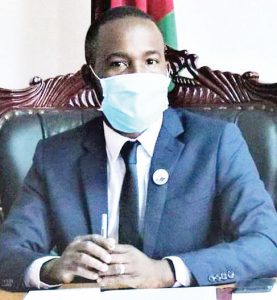 Trade Ministry moves to tighten border security
GWENGWE — Is engaging MDF on border patrols
The Ministry of Trade has revealed that it is exploring deployment of Malawi Defense Force (MDF) soldiers in the country's borders to curtail smuggling of goods into Malawi.
This comes against a background of some private sector players claiming that the vice is impacting negatively on their business on the local market.
In an interview Minister of Trade, Sosten Gwengwe, acknowledged that the problem is huge and that many local companies have logged complaints with the Ministry.
He said the ministry will engage various security agents including the MDF and Malawi Police Service on tightening border security.
"We are meeting MDF and MPS next week to see how best they can help us because some traders are becoming mafias. We want to deal with the vice for once and for all," Gwengwe said.
A trading statement for the half year ending June 30, 2020 published by Illovo Sugar Malawi shows that its profit are expected to be subdued by 65 percent due to a decrease in domestic sugar sales caused by an influx of illegally imported sugar among other factors.
In a recent interview, Chibuku Products Limited Business Development and Corporate Affairs Manager, Gloria Zimba, indicated that the company has lost 50 percent of its market share in the Central Region to smuggled Chibuku super from Zambia.
Malawi Confederation of Chambers of Chambers of Commerce and Industry (MCCCI) Head of Membership Development and Communications, Tione Kafumbu, added that while security is being tightened in the country's borders, there is also need to encourage exports.
"Government is coming in but there might be corruption as well at the boarders which calls for patriotism and we need to start looking at exporting instead of bringing goods from outside," Kafumbu said.
Justin Mkweu is a fast growing reporter who currently works with Times Group on the business desk.
He is however flexible as he also writes about current affairs and national issues.
Let us know what you think of this article and remember to add us on our facebook and follow us on our twitter. Come back daily for more Malawi business news.
Quick Links: Download Business eBooks | Ten Signs You Are An Entrepreneur | What is a Managing Director?
Latest posts by Vanessa Banda
(see all)