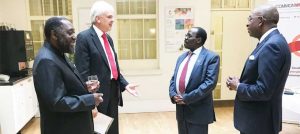 Trade reforms to improve FDI
Reforms that the government is implementing, to improve infrastructure and business environment, have potential to attract investors in all sectors of the economy.
Speaking at the Commonwealth Headquarters in London, Minister of Industry, Trade and Tourism, Henry Mussa, said the reforms are aimed at improving the competitiveness of the country in attracting foreign direct investment (FDI).
The meeting was hosted by the Commonwealth Enterprise and Investment Council (CWEIC).
"The President has challenged us to go and market Malawi. I am here to listen to you, be open and honest on issues that you want the Malawi government to address and we will. The President wants you to come and invest in Malawi. The UK is a historical and strategic partner for Malawi," Mussa said.
He said the current administration has embarked on regulatory reforms and infrastructure development that supports long term investments in agro-processing, energy, mining, tourism, education, health and infrastructure development.
"We are working on improving energy supply for the manufacturing sector to grow by next year; the land laws have been reformed. What we are now asking is whatelse you want to be done to bring investment into our country. Malawi is ready and open now for investment," he said.
Mussa further said the country has now embarked on improving airports, rail and roads to ensure that investors are connected to regional and international markets.
In his presentation to the business captains, Malawi Investment and Trade Centre (Mitc) Chief Executive Officer, Clement Kumbemba, said Malawi's economy is now registering great improvement with interest rates and inflation coming down and is expected to grow in the next year.
"For investors in the priority areas such as, infrastructure, energy and agro-processing, we offer incentives from duty free on machinery and tax holidays of up to 10 percent. The Mitc is a one-stop centre that allows you even to register a company within a day and get all relevant licences within a reasonable period," Kumbemba said.
The investors were drawn from energy, mining, services and tourism sectors.
(Visited 1 times, 1 visits today)
Latest posts by Vanessa Banda
(see all)