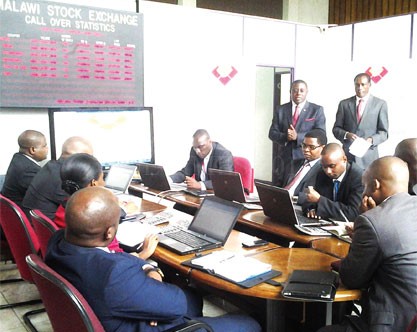 Trades down, earnings rise on stock exchange
Trading during the first quarter of 2015 has generally been on the decline in both value and volumes on the Malawi Stock Exchange (MSE) but investors saw an increase in earnings per share on the bourse.
A market performance report for the quarter released by MSE this week shows that despite reduced trading on the stock market, investors are enjoying good earnings with a return on index of 3.21 percent higher than 2.01 percent registered in first quarter 2014.
"The good returns are a result of demand on most counters," reads part of the report.
During the period under review a total of 40. 4 million were transacted at a total consideration of K675.4 million in 340 trades, representing a 17.51 percent decrease in terms of share volume and a 26.62 percent decrease in share value compared to 49 million shares at K920.4 million in 339 trades traded during the corresponding period last year.
During the period under review, the market also registered a decline in daily average trading with volumes registered at around 652,255 shares compared to 790,754 shares in 2014.
Turnover for the first quarter 2015 was also lower at K10.8 million per day compared to K14.8 million 2014, reflecting a decrease of 26.62 percent, according to the report.
The Malawi All Share Index (MASI), however, moved upwards to 15,364.50 points on March 31, 2015 from 14,886.12 points, giving a return on index of 3.21 percent compared to 2.01 percent registered in the first quarter of 2014.
The upward movement in the MASI has been attributed to price gains in nine counters namely Blantyre Hotels Limited, First Merchant Bank, Malawi Property Investment Company, NBS Bank, National Investment Trust Limited, Press Corporation Limited, Sunbird, TNM and Old Mutual Limited.
Latest posts by Vanessa Banda
(see all)