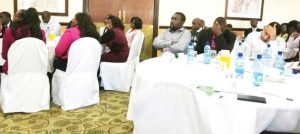 Transfer pricing policy to curb tax evasion
Analysts say the transfer pricing policy, which the government is scheduled to implement this year, would help curb tax evasion in the country.
The policy is already implemented in countries such as South Africa and Zimbabwe in Africa.
On Wednesday, Deloitte engaged its clients in a tax seminar that targeted tax update and emerging issues on transfer pricing.
Deloitte Associate Director, Cabrini McCarrick, said the policy would have a positive impact on the Malawi economy.
She said transfer pricing, which involves the principle of arms length, is mainly looking at fair pricing.
"The principle favours commodity sells for export as it will look at the appropriate value. Transfer pricing is a global registration requirement.
"If commodities are sold outside Malawi, then arms length (correct price) pricing should be expected so that it benefits both players," she said.
MacCarrick said, because the true value of the commodities will be used, this would assist in curbing tax evasion.
On his part, Deloitte Malawi Tax Partner, Nkondola Uka, said the policy is very significant to Malawi's economy.
"The major concern is that transactions between related parties might not be done at an arm's length value. The transaction may result in one being under-charged and the other over-charged.
"If transactions are happening across the border then profits might migrate from Malawi to across the borders because maybe companies across the borders have over-charged companies in Malawi. This is a concern in terms of tax revenue collection," Uka said.
He further said what is c needed is a mechanism where businesses can demonstrate to MRA that transactions are being done at arm's length.
Uka also said the policy requires that companies should have a transfer pricing policy which will explain how they are determining the value of their transaction.
(Visited 32 times, 32 visits today)
Latest posts by Vanessa Banda
(see all)