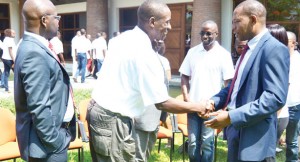 Treasury blames banks for constrained growth
The Ministry of Finance says inability by commercial banks to take risks and lend money to the private sector is one of the key factors to constrained economic development of the country.
Secretary to Treasury Ronald Mangani said this in Mangochi when he presented a paper titled 'How well financial markets could improve productive efficiency in the private sector,' during the 2015 Financial Market Dealers Association (Fimda) annual lakeshore conference.
He said instead of financing productive sectors of the country, commercial banks thrive on lending to government through Treasury Bills and that the private sector on the other hand is also busy "scavenging" on the same government through bloated prices.
"I look at banks and private sector as scavengers busy chewing a thin cow. They are busy scrambling for the intestines. But one day, this animal would die and you know the consequences," said Mangani.
"Our financial institutions have a phobia of taking risks. They prefer concentrating their lending to government rather than the private sector," said Mangani.
He said, however, that financial institutions have a key role in the promotion of private sector led economic growth through financing to industry.
Efficient markets also trigger economic growth and growth also result into efficient markets and that financial institutions also stand to benefit from growth, said Mangani.
"The current situation where we have one sector [banking] with very high returns than other sectors, all things being equal, shows that someone somewhere is being ripped," said Mangani.
He described the current financial market situation as being far from efficient, saying an efficient market is the one in which prices always reflect the available information.
He appealed to both banks and private sector players to ensure that they help government to move out of the current economic situation.
(Visited 28 times, 28 visits today)
Latest posts by Vanessa Banda
(see all)