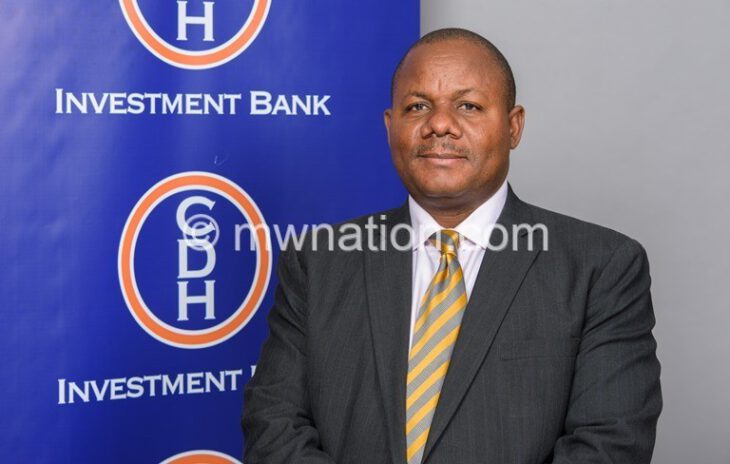 Treasury borrowing pushes up T Bills rates
The Treasury Bills (T-bills) market is gaining momentum with rates on all the tenors rising largely due to Treasury's growing appetite for domestic borrowing, Business Review has established.
In the past 12 months to February 2023, the average yield on all the three tenors has increased by an average of five percentage points, according to the Reserve Bank of Malawi (RBM) data. 
Esau: There is a lot
of borrowing
The data contained in Bridgepath Capital Limited latest economic report shows that the T-bills yield increased on all the tenors with the 91-days average yield increasing to 13 percent from 9.47 percent, the 182-days average yield rising to 17.50 percent from 12.99 percent while the 364 days average yield rose to 19.50 percent from 15 percent.
Money market analysts say this development coincides with Treasury's heavy borrowing from the domestic market, but is also a direct response to rising inflation currently at 26.7 percent as of February, according to National Statistical Office. 
Financial market analyst Misheck Esau said in an interview on Tuesday that there is a lot of borrowing by government to close the budget deficit, which is pegged at K884 billion in the current financial year that ends on March 31.
He said: "On the other hand, inflation is on the run. As a result, authorities are forced to raise interest rates to tame runaway inflation.
"In the end, rates have to go up because the government has to make borrowing expensive to tame inflation but also raise T-bills rates to entice investors to invest so that it meets its huge borrowing appetite."
In separate interview, market analyst Bond Mtembezeka said other than the fact that interest rates are tracking the policy rate at 18 percent, government's huge borrowing is having an impact on T-bills rates.
"Economic agents usually want to be compensated or covered when inflation is biting by asking for higher returns [interest rates].
"That coupled with the fact that the government is relying heavily on borrowing from the market to make up for deficits, definitely this tends to raise government securities' yields," he said.
Mtembezeka said given that interest rate is the cost of money, the rise in interest rates means Treasury will have to spend more to repay that money and that takes away resources which would have been deployed elsewhere.
While indicating that it is normal for interest rates, especially T-bills rates to be rising when inflation is rising, market analyst Cosmas Chigwe said government borrowing patterns have also contributed to the situation.
He said: "It is a tough situation for the government as the Treasury does not have the money to retire its debt instruments, therefore all maturing debt instruments will have to be refinanced at higher interest rates, further limiting fiscal space.
"Further, the Treasury bill rate is a key rate in calculating commercial banks reference rate which determines at which rates banks lend. This entails these rising interest rates will eventually be transferred to borrowers."
In view of the widening budget deficit, projected to reach 8.8 percent of the gross domestic product (GDP) in this financial year, government borrowing, especially from the domestic market has been on the rise.
Meanwhile, Malawi's public debt stood at K7.9 trillion as at December 2022 from K7.3 trillion in September 2022, with K4.43 trillion domestic debt, which is 114 percent of the total budget while K3.47 trillion is external debt, an equivalent of 90 percent of the total budget.
As a percentage of GDP the total debt in nominal terms stands at 69.93 percent.
Analysts say borrowing by a government is, however, deemed to be sustainable when it is below 50 percent of GDP, comprising domestic borrowing of not beyond 20 percent of the GDP and external borrowing not exceeding 30 percent of the broadest measure of economic activity.
Meanwhile, in February alone, for instance, Treasury sought to borrow K96 billion through T-bills, a 57 percent increase from the K61 billion in January.
Analyst argue that huge domestic borrowing has the potential to crowd out the private sector.
Let us know what you think of this article and remember to add us on our facebook and follow us on our twitter. Come back daily for more Malawi business news.
Quick Links: Download Business eBooks | Ten Signs You Are An Entrepreneur | What is a Managing Director?
Latest posts by Vanessa Banda
(see all)