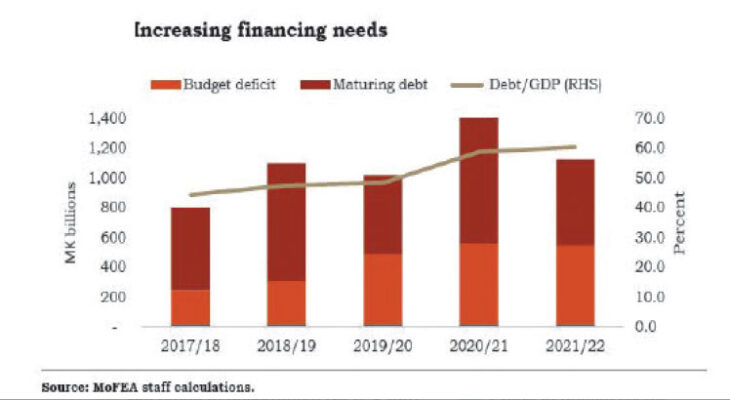 Treasury fails to meet debt target
Government says it failed to meet the target it sought to borrow from the domestic market in the 2021/22 fiscal plan due to liquidity challenges faced by market players.
Data published in the 2021/22 Annual Public Debt Report produced by Ministry of Finance and Economic Affairs shows that Treasury bills recorded an under issuance of around K290.47 billion while Treasury notes issuances underperformed by K79.70 billion, largely driven by under issuances of seven-year and 10-year notes.
Reads the report in part: "Overall, actual performance was not as planned as only 74 percent of the target amount was raised. This is as a result of liquidity challenges faced by market players.
"The 2019-2022 Medium-Term Debt Management Strategy (MTDS) guided the development of the issuance calendars."
This, according to the report, is despite increasing financing needs on the fiscus.
"Financing needs for the government have been on an upward trend for the past four financial years, with the largest increase registered in 2020/21 financial year at the height of the Covid-19 pandemic.
"The increase has been driven by high deficits and debt repayments. Both external and domestic financing needs have pushed debt to unstainable levels."
Treasury figures who that as at end September 2022, Malawi's public debt stood at K7.3 trillion, up from K6.38 trillion in March 2022, an increase of 14 percent. 
In the 2022/23 National Budget, Treasury has cut the budget deficit projection from 8.8 percent of GDP to 7.1 percent.
External and domestic debt accounted for 45 percent (K3.3 trillion) and 55 percent (K4 trillion) of the total debt, respectively.
Minister of Finance and Economic Affairs Sosten Gwengwe recently admitted that Treasury still faces huge imbalances between tax revenue and expenses, saying the country will continue to borrow resources to at least six percent of the gross domestic product (GDP) to finance the budget as they work on coming up with a lean budget.
At six percent of GDP, Treasury falls short of the recommended three percent.
Said Gwengwe: "We are running a budget that carries with it some deficits. The previous year it was hovering around eight percent, in this year we dropped down to seven percent and our plan is to be able to reduce as a percentage point of our deficit to GDP by one percent every year."
International Monetary Fund (IMF) resident representative Farayi Gwenhamo is on record as saying given the need to restore sustainability of Malawi's public debt, the budget plan for 2023/24 financial year will need to ensure that spending is prudent and prioritised while revenue mobilisation is critical.
Let us know what you think of this article and remember to add us on our facebook and follow us on our twitter. Come back daily for more Malawi business news.
Quick Links: Download Business eBooks | Ten Signs You Are An Entrepreneur | What is a Managing Director?
Latest posts by Vanessa Banda
(see all)