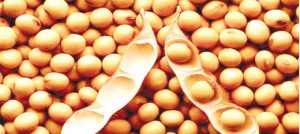 Trials to improve soybean production
The African Agricultural Technology Foundation (AATF), through its Seed2B Project, is conducting trials for six new soybean varieties which, if approved, could boost production of the crop in the country.
Briefing reporters after a tour of Bvumbwe Research Station in Thyolo and One Acre Research Station in Zomba where the research is being conducted, Seed2B Project Coordinator Edgar Wavomba said they are testing the varieties on yield potential, adaptation and resistance to disease as well as maturity period, among others.
Wavomba said the varieties are grown in other countries, including Nigeria, adding that the studies are meant to see whether they could produce efficiently in Malawi.
"We have been researching on the varieties for three years and we hope that at the end of the study, we will choose those varieties that could perform well in Malawi," Wavomba said.
AATF is working with the Ministry of Agriculture and One Acre Fund in the initiative.
One Acre Fund Programme Manager for Innovation, Yash Gharat, said through the research, farmers are able to appreciate how the new varieties are performing.
Bvumbwe Research Station Senior Assistant Agriculture Research Officer, Richard Anderski, said results of the studies will be presented to the Ministry of Agriculture so that only varieties that suit the country better are adopted.
He said the studies are also being carried out at Chitedze and Chitala research stations.
AATF is a non-profit organisation that facilitates and promotes public and private partnerships for the access and delivery of appropriate agricultural technologies for sustainable use by smallholder farmers in sub-Saharan Africa through innovative partnerships and effective stewardship along the entire value chain.
The foundation is a one-stop-shop that provides expertise and know-how that facilitates the identification, access, development, delivery and utilisation of agricultural technologies.
AATF works towards food security and poverty reduction in sub-Saharan Africa, and its structure and operations draw upon the best practices and resources of both the public and private sectors.
Through its Seeds2B Project, AATF seeks to contribute to improving the performance of sub-Saharan Africa's seed sector by bridging the gap between breeders, researchers, seed businesses and farmers and thereby improving smallholder access to affordable, better performing and locally adapted crop varieties.
(Visited 20 times, 20 visits today)
Latest posts by Vanessa Banda
(see all)