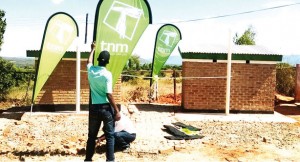 Ufulu@50 reaches Mchinji, Mzimba
TNM has handed over three community projects worth K2 million each to Mzimba and Mchinji districts which the company constructed on instructions from three winners of its Ufulu@50 Promotion.
The promotion was run last year as part of Malawi's 50th anniversary independence celebrations. Fifty winners won K2 million each for which they were supposed to choose a community project of their choice on which the money should be invested.
This week, TNM were at Kaweche Health Centre and Nkhorongo Community Day Secondary School in Mzimba to handover toilets worth K2 million each chosen by two winners in the TNM Ufulu promotion.
Lop Mhone and Lumbani Sailesi were among the 50 subscribers that won in the promotion. Mhone decided to construct toilets at Kaweche in response to sanitation challenges at the facility while Sailesi donated toilets to Nkhorongo CDSS where he is a student.
TNM Senior Consultant for Corporate Affairs for the North Andrew Kalumbi said the handover of the toilet facilities demonstrated the company's commitment in fulfilling its promises to customers in the region.
"This is a life-changing promotion as prizes are going to worthy causes that will go a long way at community level," he said.
In the Central Region, TNM officials were at Ntchima Village to handover a nursery school block which has been construction on instructions from Martha Banda who was also one of the winners in the Ufulu@50 promotion.
Banda said in interview that she chose a nursery school project to give an opportunity to children in her community to access early education and prepare them for primary education.
"The future of my village is in the hands of these children so I want to do my part in supporting them to become responsible members of the community," said Banda.
(Visited 9 times, 9 visits today)
Latest posts by Vanessa Banda
(see all)