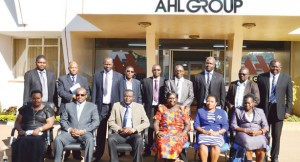 Uganda MPs admire Malawi tobacco floor
The visiting parliamentarians from Uganda have hailed the country's tobacco marketing structures, saying it is more transparent and efficient unlike those found in many other countries.
The seven parliamentarians toured Lilongwe Auction Floor on Wednesday where they were famirialised with the two systems of contract and auction marketing.
Leader of delegation, Felix Okot Ogong, said the marketing structure has shown that it gives a farmer an opportunity to get the most competitive price for their tobacco.
"In Uganda we don't have the market like this and there are a lot of things that we have learned which would help to improve the industry in our country," said Ogong.
In Uganda, said Ogong, tobacco is just sold through contract agreements between farmers and a few buyers that operate in the country.
He said, however, that the system gives room for exploitation as farmers receive less than a dollar in price for a kilogramme of tobacco unlike in Malawi where prices have generally been higher.
Briefing the delegation, AHL Group Chief Executive Officer, Evans Matabwa, said the marketing facilities that his company provides have helped anchor the growth of the industry for decades.
"The tobacco auction has provided more transparent sales of tobacco and right now we have two systems running together where we are experimenting the Integrated Production System through which farmers are selling their tobacco on contract," said Matabwa.
The parliamentarians were taken through the structures of AHL Group at Kanengo where they were shown the warehouse facilities and the sales floor.
On Tuesday, the MPs toured the AHL Commodities Exchange (AHCX) to learn how the facility is providing transparent marketing of different commodities.
(Visited 14 times, 14 visits today)
Latest posts by Vanessa Banda
(see all)