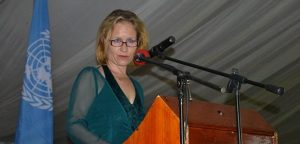 UN lobbies for funding to support innovations
The United Nations (UN) has bemoaned low interest among financial sector players to fund socially viable but risky initiatives. UN says this is frustrating growth of the private sector.
UN Resident Representative to Malawi, Mia Seppo, said while innovative and commercially viable projects remain inherently risky by nature, the financial sector should consider embracing them in its core business structures.
She was speaking at the launch of Arkey Safi Water Filter, a project funded through the recently launched Malawi Innovation Challenge Fund (MICF), a window through which local businesses in the agriculture and manufacturing sectors get access to grant funding.
Mia praised the fund, saying if successful, has potential to deliver large social impact and help the country diversify from its narrow band of exports.
Seppo said the two sectors, innovative agriculture and manufacturing, have been sidelined by financial institutions in terms of funding.
"Obviously, when you speak to the businesses in Malawi, you will always get complaints about interest rates. I think when something is innovative, the risk is higher," she said.
Moving forward, Seppo recommended that as Malawi is working on sustainable development goals, tools like the Malawi Innovation Challenge Fund, are viable for businesses growth.
Speaking on the sidelines, Arkey Director, Chetan Kotech, echoed Seppo's sentiments on challenges to access capital.
"To get a project of this size off the ground, it is not really a commercial project, but once it is well known, we will use it as a base to launch more commercial projects of this nature," he said.
MIFC provides up to matching grant to innovative business projects to help absorb some of the commercial risks associated with innovation. It also speeds up implementation of new business models and technological innovations that have high social impact.
MICF is being managed by the United Nations Development Programme (UNDP) with funding from the United Kingdom's Department for International Development.
(Visited 15 times, 15 visits today)
Latest posts by Vanessa Banda
(see all)