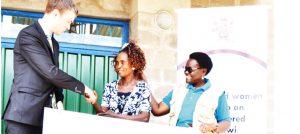 UN partners Norway in women empowerment
BY WATIPASO MZUNGU,
A CONRIBUTOR:
The United Nations (UN) Entity for Gender Equality and the Empowerment of Women (UN Women) has partnered the Royal Norwegian Embassy to support women entrepreneur in the country.
The institution blames low strides towards growth of women farmers and entrepreneurs on lack of competitive markets and a clear policy direction, among other challenges.
UN Women Country Representative to Malawi, Clara Anyangwe, said there is an urgent need for the country to address the challenges.
She was speaking at Wovwe in Karonga District when she presented K1.5 million prize to Mphinga Rice Cooperative – the winner of this year's mHub Business Pitching Competition.
With financial support from the Royal Norwegian Embassy, UN Women—in collaboration with the Department of Agricultural Extension Services and the implementing partner, Mhub are using climate smart agriculture to promote women's economic empowerment in the district.
Anyangwe said lack of competitive markets and poor prices, credit and energy (power) remain key challenges for women continue.
"We need to link them [the women entrepreneurs] to markets; we must make sure that their products are well labelled so that the Malawi Bureau of Standards can certify and have them in supermarkets," Anyangwe said.
She said t UN Women in collaboration with other stakeholders has, since undertaken deliberate steps to promoting and supporting established as well as aspiring women entrepreneurs across Malawi.
This would help the women to create a vibrant entrepreneurial ecosystem where they do not face any gender-related barriers.
First Secretary and Country Economist at the Royal Norwegian Embassy, Bent Bakken, said women have the power to change their situation, but only need assistance to remove the barriers.