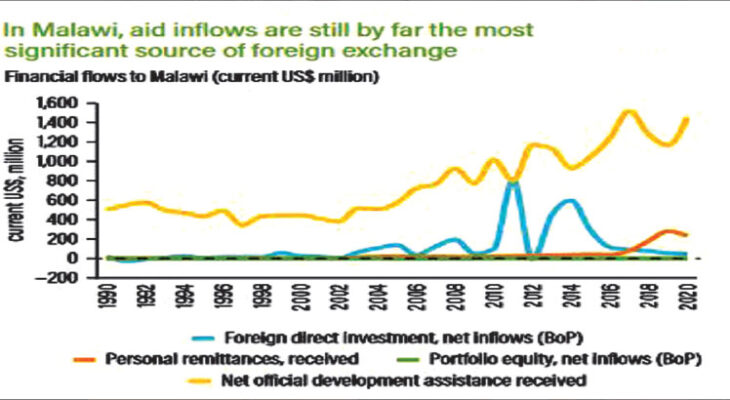 UN sees mounting pressure on FDI
The United Nations Conference on Trade and Development (Unctad) says the 2023 outlook for global foreign direct investment (FDI) in Malawi appears weak, with a significant number of economies around the world expected to enter into a recession.
In its Global Investment Trends Monitor, the UN agency observes that this will be mainly on account of negative or slow growth in many economies across the globe.
Reads the report in part:  "Negative or slow growth in many economies, further deteriorating financing conditions, investor uncertainty in the face of multiple crises, especially in developing countries, and increasing risks associated with debt levels will put significant downward pressure on FDI.
"Looking at sustainable development goals [SDGs] investment sectors beyond climate change mitigation and adaptation, the recovery after the 2020 slump remains fragile."
Unctad data shows that in developing countries, such as Malawi, the number of projects across all SDG sectors, including sustainable infrastructure, food security, water and sanitation and health, among others, increased by just three percent while values shrank slightly.
However, international investment in agriculture and agribusiness, including fertilisers, remained stagnant at low levels, according to the report.
According to the data, in developing economies, international project finance deals registered a negative growth of six percent between 2021 and 2022 from $958 billion in 2021 to $905 billion in 2022 while greenfield projects grew by 26 percent from about $4.9 billion in 2021 to $6.2 billion in 2022.
While the higher number of greenfield megaprojects in renewables is encouraging, international project finance in the sector, which is the bulk of climate change mitigation investment in recent years is suffering.
Reads the  report: "International Project Finance numbers in renewables declined by five percent and values by almost 40 percent.
"As a result, overall international investment in climate change mitigation and adaptation shrank by more than nine percent in terms of announced values and by six percent in project numbers."
In contrast, the report said, several large projects in extractive industries, coal, oil and gas, were announced against the backdrop of the ongoing energy crisis.
National Statistical Office data showed that total pledged new investment declined sharply by 85.8 percent to $174.8 million (about 181 billion) in 2021 from $1 231.1 million in 2020 (about K1.3 trillion).
During the review period, FDI net inflows, which is the value of inward direct investment made by non-resident investors in the reporting economy, declined by 55.3 percent from $209.4 million (K217 billion) in 2020 to $115.9 million (K120 billion) in 2021.
Malawi Investment and Trade Centre chief executive officer Paul Kwengwere said in an  interview on Sunday that they are working towards adapting to new ways of doing investment promotion and advocating for more business reforms to attract quality FDI even amid of such business disruptors.
He said: "We understand that Covid-19 has completely changed the business landscape, especially in investment promotion.
"On top of that, the current war in Ukraine is also impacting the flow of FDI."
Kwengwere said they will engage in more investor-targeted initiatives this year and also prioritise facilitation of more business to business meetings as well as undertaking targeted investment missions.
FDI is a category of cross-border investment whereby an investor in one country  establishes an a significant degree of influence over an enterprise in another country.
Let us know what you think of this article and remember to add us on our facebook and follow us on our twitter. Come back daily for more Malawi business news.
Quick Links: Download Business eBooks | Ten Signs You Are An Entrepreneur | What is a Managing Director?
Latest posts by Vanessa Banda
(see all)