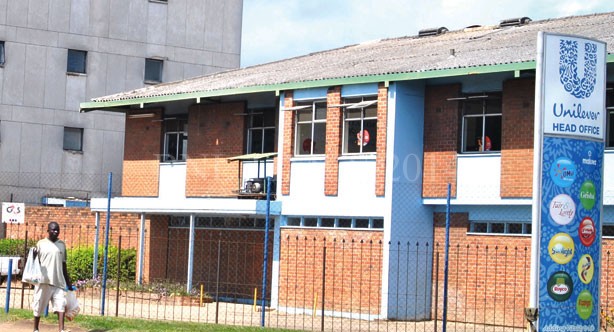 Unilever clarifies on reorganisation – BNL Times
Unilever South East Africa has re-acted to the story published in the last edition of The Business Times, clarifying that it has not yet stopped manufacturing locally and was nowhere near closure of its business in the country.
In the reaction made through an e-mail from Unilever Country Manager for Malawi Chikondi Ng'ombe, the company says the headline of our story which read 'Unilever stops manufacturing' was misleading since Unilever has not yet stopped manufacturing.
"We have simply kick-started the process of engaging key stakeholders on our planned stoppage of manufacturing," said Ng'ombe.
She said the company was still making Kazinga and Maluwa locally and was only planning to stop producing the two products later in the year.
"We are still producing at the moment and when we do finalise the engagement and communication process – including the change management process, we will also communicate the actual stoppage to our key stakeholders," she added.
Ng'ombe has also faulted the continuation headline of our story which read 'Unilever on the verge of closure', stating that the company was not closing operations in Malawi.
"We are re-organising to focus on our strategic brands. It happens that the non-strategic brands are the ones produced locally and hence the plan to eventually stop production. We will continue to operate in Malawi," she said.
Ng'ombe also said what our source – a middle ranking employee at the company, told us that staff have been on leave since Christmas was not true.
"We were open throughout the Christmas period and we have been producing since then," she explained.
Contrary to what was stated in our story that staff had not been given concrete information on their future, Ng'ombe said the company has been engaging the staff at various forums and through its workers council on the change in strategy.
"They [members of staff] have been aware of the changes and are in loop in terms of the direction the business intends to take," she said.
On staff being called in to produce soap for flood victims, Ng'ombe also said this was not true since it only donated Lifebuoy soap to flood victims on Monday last week and the soap was brought in from Unilever South Africa.
"All the soap we have made this year has been for sale to our customers," she said.
Ng'ombe also said Unilever did not retrench employees in 2012 when they temporarily stopped production.
Latest posts by Vanessa Banda
(see all)