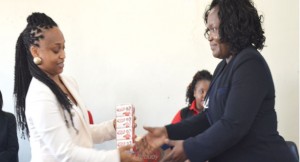 Unilever launches new anti-bacterial Lifebuoy
Unilever Malawi has launched a new brand of Lifebuoy which has been strengthened with anti-bacterial ingredients to help in infection prevention, especially among children in the country.
The company says the new Lifebuoy has patented technologies and anti-bacterial active ingredients that will increase protection from germs among users of the soap.
The launching ceremony took place at Sunbird Mount Soche in Blantyre on Monday and was graced by the principal secretary in the Ministry of Health Macphail Magwira.
Unilever Malawi's country manager, Chikondi Ng'ombe, said seven percent of deaths in children under five years of age are caused by diarrhoea.
He said in Malawi, fifty cases of cholera have already been reported this year highlighting the importance of hygiene and infection prevention among people in the country
On its part, Ng'ombe said Unilever will continue to invest in brands such as Lifebuoy that mirror Unilever's vitality mission of creating a brighter future for communities.
"We have improved Li febuoy following a clinical research that proves that hand washing with soap can lead up to a 45 percent reduction in diarrhoea infections. Hand washing with soap is a proven, cost effective and accessible solution to improving health hygiene," said Ng'ombe.
On his part, Magwira lamented the increased cases of child death due to infection in the country, describing it as alarming and requiring drastic action.
He said the majority of children in Malawi and worldwide die from preventable and curable diseases and that it is important for the country to prioritise on infection prevention to save lives of children.
Unilever has since donated cartons of the new Lifebuoy to Queen Elizabeth Central Hospital (QECH) where it distributed one thousand and eighty tablets at the children's ward.
QECH head of pediatrics and child health, Queen Dube, commended Unilever Malawi for putting up a step towards infection prevention through the new lifebuoy.
She said the hospital treats a lot of child cases involving diarrhoea and pneumonia which are caused by infection.
(Visited 8 times, 8 visits today)
Latest posts by Vanessa Banda
(see all)