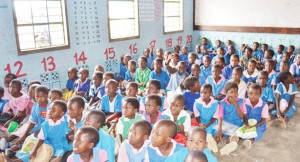 Unilever promotes hygiene in schools
As part of celebrations to mark Global Hand Washing Day, Unilever Malawi Limited has awarded Zingwangwa Primary School for emerging as runners up in the Lifebuoy the School of Five competition.
The competition is aimed at improving hygiene among primary school students and Unilever Brands Manager Nita Musyani said it was important to teach children about hand washing to help reduce diseases such as diahorrea.
"While learning about hand washing, students also learned about hygiene, which is an issue in Malawi, especially in schools. If we teach children about hand washing at an early age, they will adopt the habit and develop better hygiene habits," she said.
Musyani also stated that the children are likely to also mentor their peers and families about what they learnt, especially when it comes to hand washing.
"It teaches and encourages children and their families to follow healthy hand-washing habits on five critical occasions during the day to reduce the spread of germs and infections," she said.
Among others, Zingwangwa Primary School received a 2000 litre tank and head teacher Hastings Kumbemba thanked Unilever for the gesture. Lifebuoy the School of Five competition reached out to 15 primary schools across the country where pupils were required to collect Lifebuoy soap wrappers.
(Visited 6 times, 6 visits today)
Latest posts by Vanessa Banda
(see all)