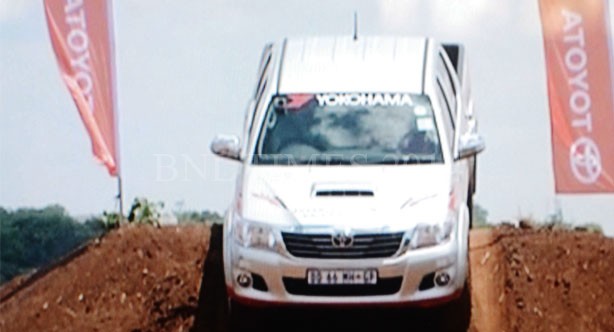 'Untamed Hilux road show' hits Lilongwe
'Untamed Hilux road show' hits Lilongwe
Toyota Malawi at the weekend showcased some of the abilities of the Toyota Hilux to Lilongwe residents in an event dubbed "untamed Hilux road show".
Speaking to the press on Saturday in Lilongwe, Toyota Malawi Marketing Manager Austin Chigalu said most people in the country lack awareness of the limitless abilities of the vehicle which prompted the company to organise the event.
"We did this to show our customers what Toyota Hilux is capable of doing. It is capable of going uphill, slide top and it is also capable of going through muddy places as we have all witnessed. Some People think that a Toyota Hilux is just good for driving in the normal roads. This event has showed us other things a Toyota Hilux can do," Chigalu said.
He further called on customers to purchase the Toyota Hilux arguing that having displayed its abilities, one can be comfortable using it knowing that the car is able to do so much.
"We have them in stock so our customers can come to purchase them in all our shops. This car is one the best cars that one is rest assured that it is safe to go and drive in so many different places of different road types," he said.
One of the instructors Nick Sharp said it's an amazing experience to drive the Toyota Hilux in all places knowing that the car has got the ability to pass through without struggles further saying he is willing to offer lessons to those interested in purchasing the car.
"I am more than delighted to render help and instruct those who would want to use the Toyota Hilux. As we all saw what it is capable of doing, it can do so much let's not limit the car it can do far much than we can imagine," Sharp said.
Latest posts by Vanessa Banda
(see all)