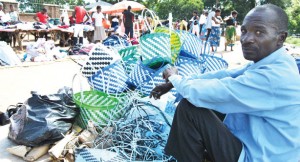 US$15m scheme to revive SMEs
The Ministry of Industry and Trade has committed to developing Small and Medium Enterprises (SMEs) so that they contribute to Malawi's economic growth and create more jobs.
Principal Secretary in the Ministry, Cliff Kaunda was speaking in Lilongwe after launching the Matching Grant Scheme project under the Access to Finance component of the Competitiveness and Job Creation Support Project being supported by African Development Bank.
Kaunda noted that Malawi's economic growth is being driven by a few large corporations; a situation he said is failing to effectively reduce poverty levels in Malawi.
"In order to reduce poverty levels, there is need to develop the SME sector because it creates more jobs and generates better incomes among the poor," said Kaunda.
The matching grant scheme provides grants to lending institutions to be used for credit and skills transfer to new or existing small enterprises to grow their businesses.
According to Kaunda, the project, worth US$15 million, will create a vibrant SME sector to supplement other interventions by government and other development partners.
Despite considerable economic growth, the 2013 Integrated Household Panel Survey (IHPS) shows that the poverty rate has slightly fallen from 40.2 percent in 2010 to 38.7 percent in 2013.
The World Bank in its Malawi Economic Monitor says that the policy environment in Malawi is biased towards larger firms, which exacerbates the limited entry and success rate of new companies that would contribute to exports and poverty reduction.
In aggregate terms, the vast majority of exporters are small, with more than 65 percent of firms exporting goods to a value of less than US$ 50,000 per year, the bank says.
Latest posts by Vanessa Banda
(see all)