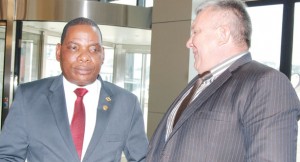 US$80m solar plant by 2016
A Malawian company has teamed up with partners from the United States and Germany to invest in an US$80 million large scale solar power project to generate 40 to 50 megawatts of electricity by next year.
This would be the first of its kind in the country which is now grappling with ever increasing demand for power, with the deficit currently estimated at nine megawatts.
The firm, Atlas Energies Limited, says the deal for the photovoltaic venture has been sealed following negotiations at the just ended Malawi Investment Forum.
"The partnership and commitment for the financing of the plant has already been confirmed," said Atlas Energy Limited chairperson, Konrad Buckle.
The venture will produce electricity at the plant from where Escom will be tapping power into the national grid.
Buckle said negotiations are now underway with the Electricity Supply Corporation of Malawi (Escom) for a power purchasing agreement from the project.
Buckle said all required feasibility studies were already done and completed with support the ministries of Trade, Energy, Finance and Lands.
He expects the plant to be commissioned early 2016.
Buckle said the US and Germany investors the company has teamed are experienced and would provide valuable knowledge and expertise in solar energy generation.
Buckle said the company opted for solar rather than hydro which, he says, is costly and takes a long term to realise.
(Visited 97 times, 26 visits today)
Latest posts by Vanessa Banda
(see all)