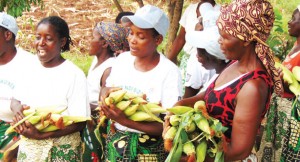 Using knowledge to grow and market farm produce
Farmers from Ndemanje Village Scheme in Chief Kapeni's area in Blantyre have been able to make breakthroughs in the production and marketing of their crops because of training on agriculture production and business management which they have received from the Irrigation and Rural Livelihood Agriculture Development Project (IRLADP).
Through the Blantyre Agriculture Development Division, the Irrigation and Rural Livelihoods Agriculture Development Project (IRLADP) supported the Ndemanje Village Scheme since 2007 during which they provided financial and technical support for the construction of irrigation canals at the scheme which have enabled the farmers to water their crops without the need for electricity or petrol.
A committee member at the scheme Peter Amos said following the training IRLADP provided to them as part of the support to the scheme, they were able to conduct market research which enabled them to identify crops that were on demand on the market.
"We only grow crops that are on demand. This has helped us to sustain good sales of our produce at the farm," said Amos.
He said the research also helped them to get support from IRLADP for the rehabilitation of the road to the scheme since prospective buyers mentioned the poor condition of the road as one of the factors that could prevent them from going to the scheme to buy produce.
The five kilometre-road is now in good shape and has made it possible for vegetable traders from Lunzu and Blantyre city to frequently come to the scheme to buy green maize, tomatoes, unions and other crops.
Amos said apart from market research, the group also keeps records of all incomes and expenditures and always calculates their cost of production against sales to make sure that they are making profits in their business.
"We are even able to work out our figures and compare them with those of the previous year to see whether we are making progress," said Amos.
IRLADP was a project of the Malawi government whose implementation started in 2006 and closed on June 30, 2015 with grant and credit from the International Development Association (IDA) of the World Bank and International Fund for Agricultural Development (IFAD) to support growth-oriented agricultural development in Malawi.
(Visited 22 times, 10 visits today)
Latest posts by Vanessa Banda
(see all)