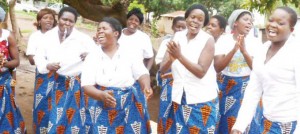 Village banks support women empowerment
Tingathe Village Bank is an 18 member women group in Machinjiri which meets every Tuesday afternoon.
The group has been running for more than four years and the members cannot hide the life changing experiences since joining the group.
With a minimum contribution of K1,000 per week, the members are able to generate disposable income from their earnings.
Funny Mponda is a widow, but is able to survive through the earnings from the group.
"I run a cross border business, but before I joined the group, I was struggling especially to raise capital. I tried other cooperatives but the conditions were tough and had to close my account for fear of losing household property," she said.
Mponda further said since she joined the group, access to loans has been easy.
"When I joined Tingathe Group, I managed to raise the much needed capital and was also able to borrow from the group with little interest. This has enabled my business to grow tremendously," she said.
On the other hand, Ireen Saidi said whilst the village banks are beneficial, they also face challenges as most of them are run based on trust.
"There is some kind of risk involved as these groups are not registered anywhere. When one defaults re-payment of the loan, it is difficult for the members to act, the way financial institutions do.
"We have never had such an experience, but we cannot rule out the likelihood," Saidi said.
She said the group has guidelines which each member is supposed to follow.
She said as members, they are able to cart home between K140,000 to K600,000 at the end of a season.
"Our aim is to grow, but the hindering factor is what I earlier said, there is no surety and members are mostly to pump in more money," she said.
(Visited 4 times, 4 visits today)
Latest posts by Vanessa Banda
(see all)