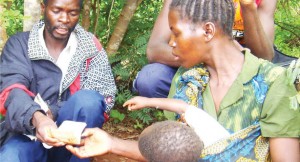 Village savings build up 4 billion kwacha
The growing micro-finance concept of village savings has accumulated about K4 billion in capital which is being circulating among the groups that are widely dominated by women.
The Malawi government says in the 2015 Annual Economic Report that the schemes have helped in the provision of accessible loans among the poor, especially in rural areas.
A mapping exercise conducted by the Department of Economic Planning and Development in partnership with Care Malawi established that there are a total of 3, 451 registered village savings schemes with a membership of 610,000 people, of which 483,220 are women, according to the report.
The Ministry of Finance has since instituted a technical working group on microfinance to coordinate activities and it is also in the process of establishing an apex fund through which it will provide seed funding to the groups, according to the Annual Economic Report.
Ministry of Finance spokesperson, Nations Msowoya, said on Monday the ministry is doing a lot more to enhance the microfinance concepts such as village savings and financial cooperatives.
He said a microfinance policy is currently being developed and that there are a lot of programmes under the World Bank funded Financial Sector Technical Support Programme aimed at promoting microfinance in Malawi.
"We are also implementing capacity building programmes with other institutions to propel the micro finance concept," said Msowoya.
Through Comsip alone, an institution that was created under Masaf, about 4,500 groups that are saving and lending have been created across 28 districts in the country, mobilising savings of up to K1.4 billion.
The World Bank, through Masaf, has provided about US$12 million to be used to scale up the coverage of Comsip, according to Msowoya.
(Visited 7 times, 7 visits today)
Latest posts by Vanessa Banda
(see all)