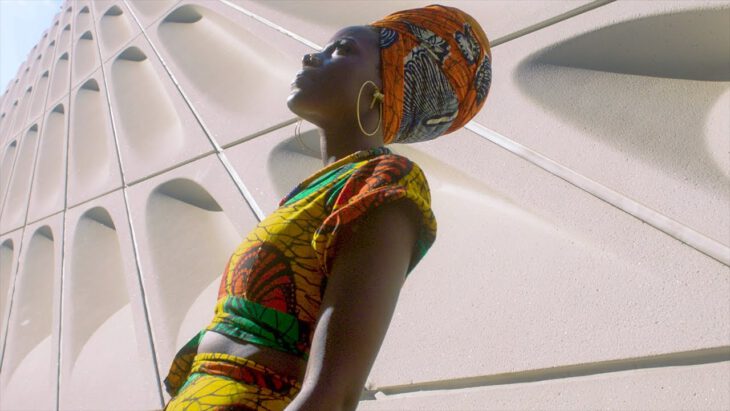 Watch Keturah – "All the way from Africa"

"This is a happy song. Where I express how good it feels to travel and I introduce myself to people. I invite them to come and visit my country, to see the beauty of Malawi and of Africa". – Keturah
Directed by: Keturah & Jeremy Steinberger
Edited by: Jeremy Steinberger
Assistant Editor: James Dayton
Director of Photography: Matt Klepner
1st AC: Ali Arminio
Additional Visuals by: Randi Malkin Steinberger
Drums: background vocals: Mermans Mosengo
Conga: shaker: Magatte Sow
Bass: Kaveh Rastegar
Acoustic & electric guitars, background vocal: Jason Tamba
Lead vocals: Keturah
Song by Keturah, Jason Tamba and Harlan Steinberger
From the warm heart of Malawi, Africa rises Keturah, a 27-year-old virtuoso arriving to the world stage with her self-titled debut. A 10-track odyssey chronicling Keturah's journey from the tiny remote home village of Monza to the shores of Venice, California, Keturah updates traditional Malawian folk with contemporary rhythms from the greater African diaspora, a cultural exchange made possible through a unique opportunity to travel to Los Angeles to record her first full-length project.
Having never stepped foot on an airplane, let alone leave Malawi, Keturah's 30-hour trip proved to be a significant leap forward in an artist's journey that began on foot. As a child, Keturah first realized her musical potential on walks through her village with her uncle. He'd strum his guitar and sing ballads. She'd just watch and listen until eventually gaining the confidence to join in with her own melodies. In song, she began to form a connection with her community that had long been elusive. As a child she mostly kept to herself, often feeling more like an elder than a friend to her peers. She found solace in her thoughts or those of her mother, who often sat her down to share wisdom through stories and memories. The two became best friends until she passed away when Keturah was only 13. Having already lost her uncle, Keturah turned to music as a way of carrying forward her family's message.
Not yet fourteen, but determined to reach a larger audience, again Keturah set out on foot, this time for Blantyre, Malawi's second largest city, where she hoped to find a recording studio. She met a local producer who was so impressed by her voice that he offered to record her for free. Keturah put down one song that eventually made its way onto radio, launching her music career with releases empowering listeners to connect their Malawian identity as a way to realize their own power. The attitude resonated, Keturah earned the nickname "Naliyela, Local Girl" as she rose to the status of Malawian celebrity.
Her talent soon caught the eye of French Honorary Consul Luc Deschamps, who runs the Jacaranda Foundation, a Malawian school for orphans and its cultural center. He recognized her potential and connected her with Harlan Steinberger, director of Hen House Studios, an independent music label and recording studio, churning out roots and world music in Venice, California. Jacaranda arranged for Keturah to travel to Los Angeles to record at Hen House in July of 2022. She arrived with voice notes featuring roughly sketched melodies over lo-fi guitar and let Harlan mold things from there. He hoped to elevate the demos into anthems by calling in Playing for Change co-founder Mark Johnson and surrounding Keturah with an all-star cast of musicians, including the rhythm section of the Playing for Change Band (Jason Tamba and Mermans Mosengo), bass player Kaveh Rastegar (John Legend, Bruno Mars), Magatte Sow (Senegalese drummer featured on the Black Panther soundtrack), seasoned Kora player Prince Diabate, Mickey Raphael (Willie Nelson's long-time harmonica player), The Doors drummer John Densmore (percussion), soul singer Chris Pierce, Zimbabwean guitar legend Louis Mhlanga and the young Stones Throw pianist Jamael Dean.
The album journeys through a dynamic blend of genres, from the lively, upbeat afro-folk-funk rhythms of "Kwanumkwanu" to the emotive ballads of "Sukulu" and "Chimbalame", the Americana inspired "Nchiwewe" and more lighthearted tracks such as "All The Way from Africa" and "Ku Nyumba." Keturah's exceptional songwriting and powerful vocals are elevated by intricate percussion, melodic guitar lines, subtle backing vocals and horns, creating an eclectic album that showcases her talent as an African songstress ready to make a global impact.
This Keturah – "All the way from Africa" was first released on: 2023-05-19 00:00:20.
Enjoy some Keturah pictures, read our Keturah biography and discover more Malawian artists.
Latest posts by Monica Phiri
(see all)