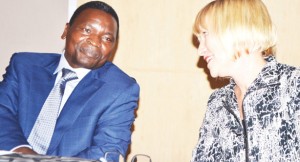 Woes blamed on basket of factors
The World Bank has blamed Malawi's continued economic problems on various factors including macro-economic policy reversals, ineffective public finance management, eruption of corruption scandals, weather shocks and unpredictable foreign aid.
Speaking to accountants at this year's Institute of Chartered Accountants (Icam) Lakeshore Conference in Mangochi over the weekend, World Bank country manager for Malawi Laura Kullenberg said Malawi has in recent years suffered repeated episodes of growth followed by backsliding.
"There have been boom and bust and this cycle seems to repeat itself. This rollercoaster is all too familiar in Malawi and today we are again in a difficult moment," observed Kullenberg.
She said although the medium term growth outlook is broadly positive, Malawi now is facing a large fiscal deficit, persistently high inflation, unstable exchange rates and high lending rates which continue to threaten growth and performance of the economy
Kullenberg said after registering solid growth in 2014, driven by agriculture, telecommunications and trade, and with prospects for 2015 looking good, back-to-back weather shocks and continued macroeconomic instability have taken a toll on the economy.
"We now project a considerable slowing in the rate of growth for 2015," she said.
The downturn in growth contrasts with high growth, said Kullenberg, registered in Malawi between 2006 and 2010 when the economy grew by an average of seven percent attributed to a stable macroeconomic environment, favourable weather conditions and good harvests supported by large inflows of foreign aid.
For the country to get back on track, Kullenberg believes that strong macro-economic management is key.
She said public sector and public financial management reforms are crucial to changing Malawi's fortunes and making the country competitive in the region.
Malawi also needs to produce more than it consumes, export more than it imports and diversify its economy.
Kullenberg observed that Malawi does not lack good policies and strategies.
"Malawi has a wealth of well elaborated development strategies which are rarely implemented in full. To move forward this needs to change," she said.
Malawi also requires a long term vision built on a strong and broad national consensus and shared commitment to priorities that can be sustained over time, beyond electoral cycles.
She described cashgate as a "harsh wake up call" and "an opportunity" to get basic systems working again, gain broader popular support for reform and forge a delivery compact between citizens and government.
Cashgate, said Kullenberg, exposed systemic weaknesses that had been there for some time.
"These reforms are basic ones – to restore discipline and public sector performance and better compliance with the laws and rules that are already in place," she said.
"It can be done," says Kullenberg, adding: "And there is no choice."
"These reforms are fundamental prerequisites to getting the country back on a steady footing for growth and res tore confidence in government," she said.
For the reforms to work, however, it requires sustained high level political leadership and focus; without compromise or pause, from the executive and parliament with support from the civil service and citizens, said Kellenberg.
(Visited 1 times, 1 visits today)
Latest posts by Vanessa Banda
(see all)