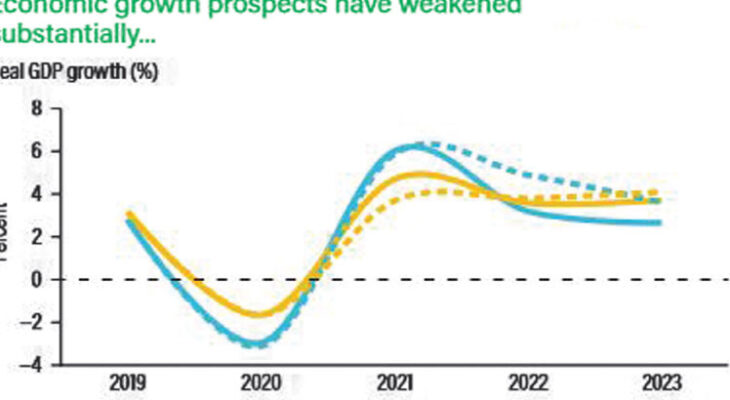 World bank cuts 2023 growth to 1.6 percent
The World Bank has slashed Malawi's 2023 gross domestic product (GDP) growth rate projection to 1.6 percent, a development the Bretton Woods institution says signifies that economic recovery will be gradual with significant risks remaining.
The bank's latest projection is a downgrade from the three percent it earlier projected in its January 2023 Global Economic Prospects.
The growth rate is also 1.1 percent below the Malawi Government's 2.7 percent growth rate and 4.4 below the recommended six percent growth rate economist prescribe as desirable to achieve sustainable economic growth and have meaningful impact on poverty reduction.
In its country overview update released on Thursday, the World Bank said the growth rate equates to shrinking production in per capita terms.
Reads the update in part: "Malawi continues to rely on subsistence, rain-fed agriculture, which limits its growth potential, increases its susceptibility to weather shocks and creates food insecurity.
"Climate shocks, low agricultural productivity, and slow structural transformation mean that poverty levels remain high in Malawi."
Meanwhile, the Malawi Vulnerability Assessment Committee (Mvac) projected that 3.8 million people, about 20 percent country's population in  the country will face hunger between November 2022 and March 2023.
However, following Tropical Cyclone Freddy, which hit the country's Southern Region a fortnight ago, there has been loss of life and property and disruption of business.
Apart from disrupting water and electricity services, the cyclone also disrupted service delivery in government offices.
The disruption came at a time when during the year, agriculture production was expected to pick up with favourable weather conditions expected in the 2022/23 growing season as reflected in the crop and animal production subsectors which were expected to grow by 3.5 percent compared to one percent last growing season.
Last week, Reserve Bank of Malawi Governor Wilson Banda painted a gloomy picture on the country's economic prospects for the country due to the impact of Tropical Cyclone Freddy.
He said: "In 2023, domestic real gross domestic product is expected to rebound and grow by 2.7 percent from 1.2 percent.
"However, the projection will be revised to incorporate effects of Cyclone Freddy."
Malawi's economy has been significantly weakened by a series of exogenous shocks and persistent macro-fiscal imbalances."
In 2022, the World Bank projected growth to decline to 0.9 percent from 2.8 percent in 2021, with lower agricultural output, erratic electricity supply, foreign exchange shortages affecting importation of raw materials, and high global commodity prices.
Let us know what you think of this article and remember to add us on our facebook and follow us on our twitter. Come back daily for more Malawi business news.
Quick Links: Download Business eBooks | Ten Signs You Are An Entrepreneur | What is a Managing Director?
Latest posts by Vanessa Banda
(see all)