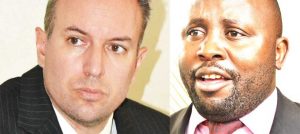 World Bank outlines business constraints
The World Bank has cited lack of awareness on the use of the collateral registry, especially among women entrepreneurs, as one of the key constraints to doing business in Malawi.
The Bretton woods institution has also linked the situation to low access to finance for most businesses operating in the country.
World Bank Senior Operations Officer, responsible for Finance and Markets Global Practice, Bartol Letica, said authorities need to be aggressive in addressing such issues.
He was speaking on the sidelines of a day-long workshop on collateral registry for women owned enterprises in Blantyre on Tuesday.
According to Latica, low involvement of women in the sector has continued to affect Malawi's competitiveness and ability to grow its Small and Medium Enterprises (SMEs).
"One thing that we noticed is that not many women are getting financing through the collateral registry. At the same time, they report more significant challenges related to access to finance compared to their male counterparts,"Letica said.
He further recommended creation of a robust credit infrastructure in the country that will help in reforming the sector.
Director of SMEs in the Ministry of Industry, Trade and Tourism, Wiskes Nkombezi, conceded that there are growing concerns over access to finance among women.
"The business environment benefits men more, but we are refor ming it. On accessing finance, we see that women are more disadvantaged and we are working towards addressing that constraint," Nkombezi said.
Since the collateral registry was launched in November 2015, about K242 billion of financing has been facilitated, out of which, loans acquired by women using movable collateral accounted for only K75 billion.
And Registrar General, Chapasu Phiri, blamed perception and cultural limitations among major limitations for women entrepreneurs to make the most of the window.
Recently, Malawi moved 23 steps upwards on the World Bank Doing Business Index for 2017, moving from position 133 to position 110 out of 190 economies.
(Visited 17 times, 9 visits today)
Latest posts by Vanessa Banda
(see all)